What:
The Klein News Innovation Camp is an annual unconference on the future of news and journalism attended by more than 250 media professionals from across the mid-Atlantic, including major national, local and independent newsrooms. The day-long event is organized by Technically Media with support from Temple University's Klein College of Media and Communications.
When:
The 14th annual Klein News Innovation Camp will now be held on Saturday, Jan. 28, 2023.
In recent years, the unconference has been held in the fall — though for the first few years it was in the spring. Most years, doors open at 9 a.m. and the first session starts at 10 a.m.
Where:
Annenberg Hall at Temple University in North Philadelphia, Pa.
Address:
Annenberg Hall
2020 N 13th St
North Philadelphia, PA 19122
WiFi
Projectors in every presentation room.
Continental breakfast and hot coffee provided, filling lunch and happy hour with heavy appetizers.
Three short blocks from the Cecil B. Moore Broad Street Line subway stop.
Accessible from 30th Street Station and Philadelphia International Airport by train. Use the SEPTA system map.
Where should I stay?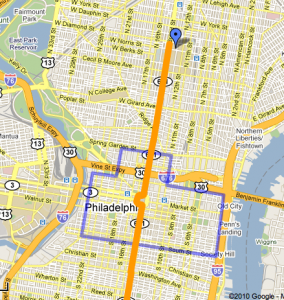 The event is held on Temple University's flagship campus, but there are limited hotels within walking distance. We recommend looking at hotels and Airbnbs either in Center City (depicted above) or in residential neighborhoods like Kensington and Fishtown.
Need Parking info? (Street parking also available, though often crowded)