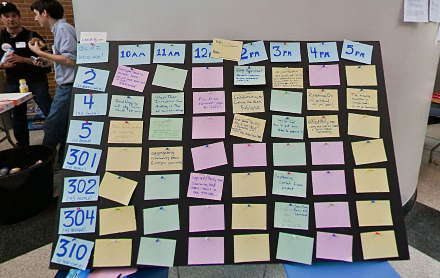 At a typical conference, the only way you're able to present is to cross your fingers and hope some special committee gives you a call. At BarCamp NewsInnovation, however, getting on the schedule is as easy as filling out an index card and posting on the schedule grid (above).
BarCamp follows the "unconference" model where the attendees fill the schedule board with their own presentations. Besides, the best way to get everything you can out of BCNI is to present!
What should I present?
The only requirement is that your presentation has something to do with news. Some ideas:
Present the latest project you, your team or your company is working on. For example, last year the Washington Post showed off how they got Sprint to sponsor their real-time news aggregator.
Have a round table discussion on a topic you'd like to know more about. For example the CoPress crew presented on "How do you reinvent j-school for 2020?"
Propose an idea. What would you like to change in the industry? Do you have a new monetization strategy? Share it!
Share a lesson you have learned over the past year. For example Philly.com shared how they "swarmed" the Obama-Clinton Pennsylvania primary.
Still stuck? Check out our uservoice forum or the list of last year's presentations.
When doubt just make sure it is something we haven't heard before. BCNI is about moving the conversation forward.
The technical stuff
You have an fifty minutes. Take as much of that up as you'd like.
All rooms are college classrooms, and most have computers.
Each room has a podium, a Microsoft Windows machine and Microsoft Office.
Each room has a projector.
You can bring your own laptop and hook it up to the projector, though we suggest you just stick your presentation on a USB drive and back it up on a Google Doc instead. We make no guarantees that your laptop will have the right video port.
Hope that helps and see you there!